'Curio'
noun
a rare, unusual, or intriguing object
Here at Crux we have been doing all we can to make sure we are sourcing the most interesting and unique puzzles from around the world. However, our own curiosity had been peaked by the unusual objects, gifts, Curios, that some of these puzzle-makers also craft.
From UK based Felix Ure, we now have a variety of ornate and beautiful Spinning Tops. Both styles are machined from solid brass and boast some impressive spin times.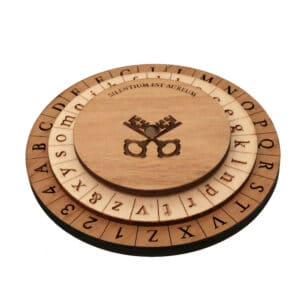 Coming all the way from the Creative Crafthouse workshop in the USA, we have two types of Cipher Machines. 'The Alberti Cipher', developed in 1467 by famous Italian scholar Leon Battista Alberti, is the first example of a true "polyalphabetic" cipher device using two dissimilar alphabets. While the 'Enigma IV Cipher Machine' has 6 double sided gears that can provide 648,960 different possible keys for encrypting your own messages.
The last Curio for the moment is 'The Monkeys' Nuts', from the team at Two Brass Monkeys, also here in the UK. More of an impossible object than a puzzle. It consists of one bolt with two nuts, one is removed by turning it clockwise the other anticlockwise. The seemingly impossible bolt has the same thread along it's length meaning this should not be possible.
You can view our full range of Curios here.