Quadro is a packing puzzle designed and made by Yavuz Demirhan of Turkey and has a really pleasing solution.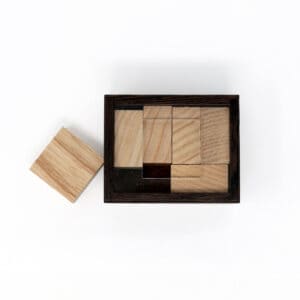 It comes in a drawstring bag which is a nice little addition, it also comes in handy for keeping any pieces you can't fit back into the box together.
It is a neat little puzzle that fits within the palm of your hand but the box has a really nice finish and looks of a high quality.
The aim is to fit six pieces which all look the same into the box. However there is an acrylic cover with a space only just big enough to fit a piece through horizontally meaning you can fit in four or five pieces easily but the sixth is the challenge!
The pieces are a little fiddly to get in and out of the box although this may well have just been me, I don't get on awfully well with dexterity challenges!
This is a fun puzzle to play around with and mid-level of difficulty, approachable by everyone, some might remain stumped by it but my feeling is most will crack it with enough patience.
We don't want to give away the solution here but if you do want to check it out watch the video below.
You can find more details and pick up Quadro for yourself here.