Bibox is a fantastic wooden puzzle designed and made by Vinco of the Czech Republic.
I am not entirely sure whether this would be categorized as a puzzle box or simply a take apart puzzle, it combines both with a small cavity once opened that holds the marble you have to try and free. The shape of the Bibox is so pleasing and the contrasting wood make this one of the most attractive puzzles in our collection, although this does change in my mind on a fairly regular basis!
So you have the aim of the puzzle which is to free the wooden marble but on first look there is very little in the way of hints as to how to do this. You might try running through the 'go to' puzzle techniques at first but no luck there. The solution once discovered is fairly straightforward but I really like that you could play around with this for a long time and not come across it. It is one of those puzzles that you might solve straight away and come away with the impression it is very easy but I also think it might leave some stumped for quite some time.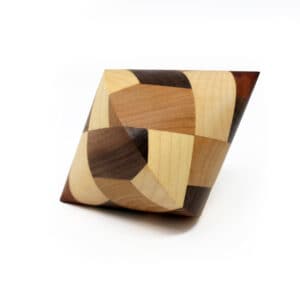 Either way I really love this one and definitely going to be landing in the personal collection.
You can find bibox here.