Count On Me! also known as Digigrams is a wooden puzzle designed in the UK by Martin Watson.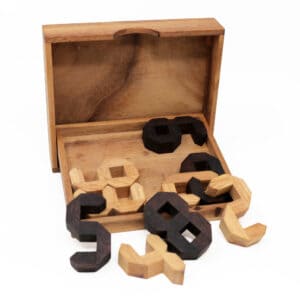 The version we have is created by Creative Crafthouse of the US and features a nice two tone colourway on the pieces. The aim of the game is to try and fit all the digits back into the base. It does come in the solved state but you need to just tip all the pieces out and don't pay any attention if you want to try it properly.
Fairly challenging this is one of those puzzles where you're going to come close every time but finding the right solution is tough. I found even when I did have the right solution it might seem like the final piece doesn't fit but then hey presto it squeezes satisfyingly inbetween the others. The finished arrangement has a pleasing lattice design and looks quite nice displayed on a coffee table or desk for others to try.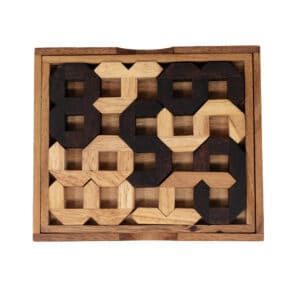 You also get a lid which holds all the pieces together and is a nice touch but also fits under the base when you're playing with it.
Find Count on Me! here.