Hanayama are know for their pocket sized puzzles which are fantastic but they also do a range of Chess Piece puzzles. They have six different designs and the objective with all of them is to try and find the coin hidden inside.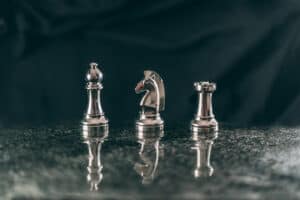 This week we took a look at the Rook piece. They're available in two different colour options, the original silver version or a newer black but it is worth pointing out both of them have exactly the same solution.
While not overly challenging, it probably took around 10 minutes or so the first time I tried this, it is still a nice puzzle and might prove more of a challenge to puzzling newbies. It's also very hard not to want to have the complete set which make quite a nice collection and each piece does have a different solution.
It is hard when comparing somthing like this with some of the more expensive puzzles on the market but you can feel the difference in build quality between this and some of the UK produced small batch puzzles we stock. Saying this it wouldn't put me off and the price is also certainly down the more affordable end of the spectrum with the Rook puzzle too.
You can find the Rook in silver here and in black here.