Outback is a tricky puzzle created by prolific designer Stewart Coffin and made from hardwood in the US by Creative Crafthouse.
It comes in a nice frame and cover setup and there are four pieces in the frame already with the final fifth piece sitting in it's own space and this is what you have to fit into the frame with other four.
A fairly tough puzzle with only one known solution. These style of puzzles generally require a bit patience and trial and error to work out and for me this one was no excpetion. After you've played with this for a while the included solution starts to seem quite tempting but as you'll know there is no satisfaction in that! Once you finally manage to nail down the right assembly and the final piece slots in then it's a very satisfying feeling!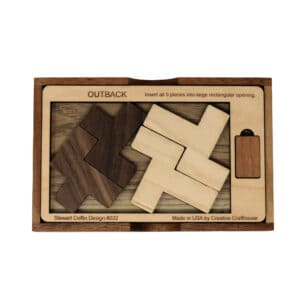 Overall I'd recommend this puzzle for anyone looking for something that is going to keep you busy at least for a little while. Good for intermediate to experienced puzzlers.
You can find Outback here.